The UC Davis Center for Nutrition in Schools (CNS) focuses on six main goal areas. Each goal area includes research, training and education, outreach, innovative technology, and principles of community-based participatory research.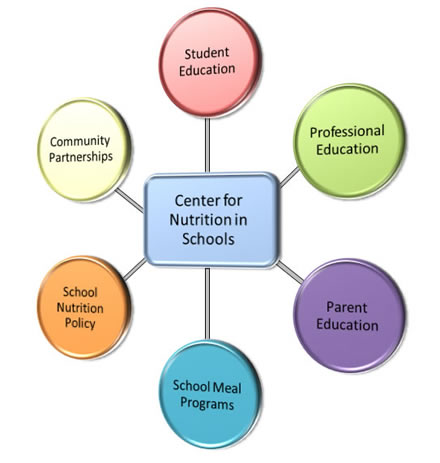 Student Education
With funding from the California Department of Education, CNS developed and tested Nutrition Education Competencies to provide a framework for nutrition education that is aligned with current California content standards in core subject areas. This framework provides the foundation for curriculum development, research, implementation, and outreach to classrooms throughout California. 
Professional Education
Teachers' input and involvement is a critical element of CNS. Teacher pre-service and in-service training programs will be provided to communicate current nutrition principles and research findings. These trainings utilize the expertise and wealth of resources provided by the UC Davis Nutrition Department, the UC Davis School of Education, the UC Davis School Gardening Program,and associated health-related programs.
Parent Education
Parent involvement in educational programs will be included in nutrition education program development, research, and outreach.
District Wellness Policy
School teams, including administrators, teachers, child nutrition program personnel, school nurses, coaches, and parents will be able to utilize CNS for enhancing wellness policies. The School Community Actions for Nutrition (SCAN) survey was developed and tested to provide the school community with an effective method for implementing and assessing nutrition-related areas within the school district.
Child Nutrition Programs
Coordination with the National Food Service Management Institute will support the use of educational resources useful to California child nutrition program directors, and assist in providing professional development programs and pre-service education programs relating to current nutrition science. Schools that succeed in integrating classroom instruction with healthful food choices, school gardens, and farm-to-school programs will be evaluated as "best practice" models.
Community Partnerships
Nutrition education programs will be provided in the context of school and community health programs. The place-based education and community-based participatory research public health philosophies will be emphasized. Involvement of registered dietitians will be a priority in this component, including the development and implementation of strategies that utilize the expertise of these professionals in classroom nutrition education and teacher training programs.