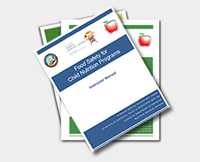 Check out our training curriculum site for the latest materials for school nutrition professionals.
Check out our classroom curriculum site for the latest materials for teachers, students, and parents.

Find information about garden-based learning, garden-enhanced nutrition education, and resources for starting your own instructional school garden.

These resources provide quick, reliable information about a variety of nutrition topics.

CNS provides training and professional development opportunities for teachers and child nutrition professionals.
Enhance and assess your district's wellness policies using the School and Community Actions for Nutrition (SCAN) Survey.
On this page you will find external online resources related to the mission of the Center for Nutrition in Schools.