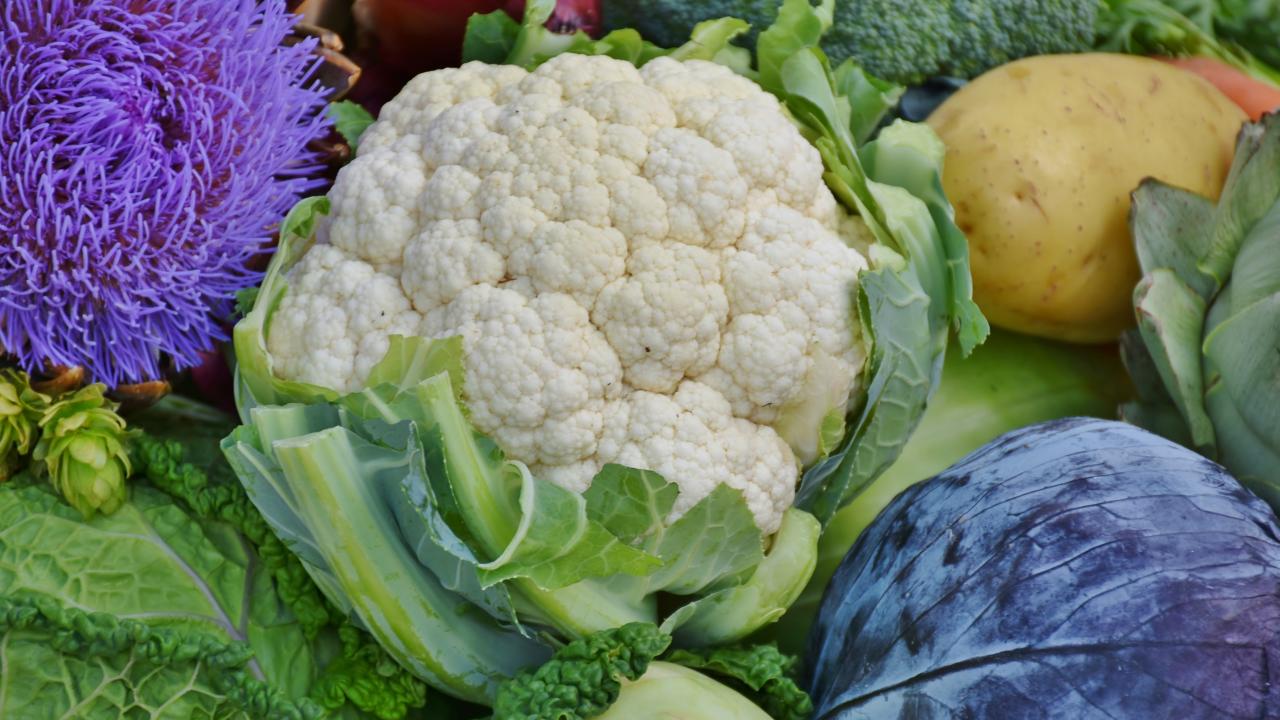 December marks the beginning of cold weather seasonal fruits and vegetables, especially cruciferous vegetables! Cruciferous vegetables are packed with several vitamins and minerals, such as folate and vitamins K, A, and C. Cruciferous vegetables also include phytochemicals, which may help reduce the risk for inflammatory diseases such as cancer.
For your next weekly or holiday meal, try including a member of this diverse group of vegetables, which includes broccoli, cauliflower, Brussel sprouts, bok choy, cabbage, collard greens, kale, arugula, and many other leafy greens; oh my! Some more unique cruciferous vegetables that you may not have tried before include kohlrabi and watercress!
Here are some tips to help you prepare and include cruciferous vegetables into your meals:
Squeeze in an acidic ingredient:

Cruciferous vegetables are often found to be naturally bitter, so try adding an acidic ingredient, such as lemon juice, lime juice, or balsamic vinegar to help tone down the bitter flavor and make your vegetables sweet and delicious. For example, roast broccoli and Brussel sprouts with your favorite seasonings, and top it off with a drizzle of olive oil and lemon juice!  Want something sweet? When blending a kale smoothie, add orange juice for a splash of sweetness!

Massage your leafy vegetables: 

If you love raw leafy vegetables, such as kale and Swiss chard, in salads or wraps, a good tip is to massage your vegetables beforehand to breakdown the chewy, fibrous leaves. This will help retain its crispiness and soften up the tender leaves for easy eating!

Get creative with cauliflower:

Cauliflower can be used in many recipes, such as cauliflower pizza crust, cauliflower mash, or even riced cauliflower! A popular kid-friendly snack is crispy, cauliflower fritters! Dip cauliflower florets in a batter of egg, flour, milk, baking powder, salt, and pepper, and then bake them in the oven until brown and crispy.
Planting a winter vegetable garden can also be a fun outdoor family activity! If you're looking to make the most out of your winter garden, UC Master Gardeners suggest planting cruciferous vegetables like radishes, cabbage, Brussel sprouts, cauliflower, broccoli, kale, and Swiss chard, along with other leafy greens. Cruciferous vegetables grow best once temperatures have reached below 70 degrees and generally are in season in California during the late fall and winter months. These plants are hearty and can handle the cold if planted prior to the first frost. 
Pro tip:

If you're worried about your garden location being too cold, plant kale! Kale is the most resilient of the cruciferous vegetables and can even grow in snow. In fact, kale plants tend to get sweeter in colder climates, making it the perfect base in recipes, like this 

kale salad with nuts and seasonal fruits

 

from EatFresh.org. 
Check out the Harvest of the Month newsletters on various cruciferous vegetables like, cabbage, broccoli, and cooked greens, for more recipes, fun facts, and health benefits!
Category
Tags