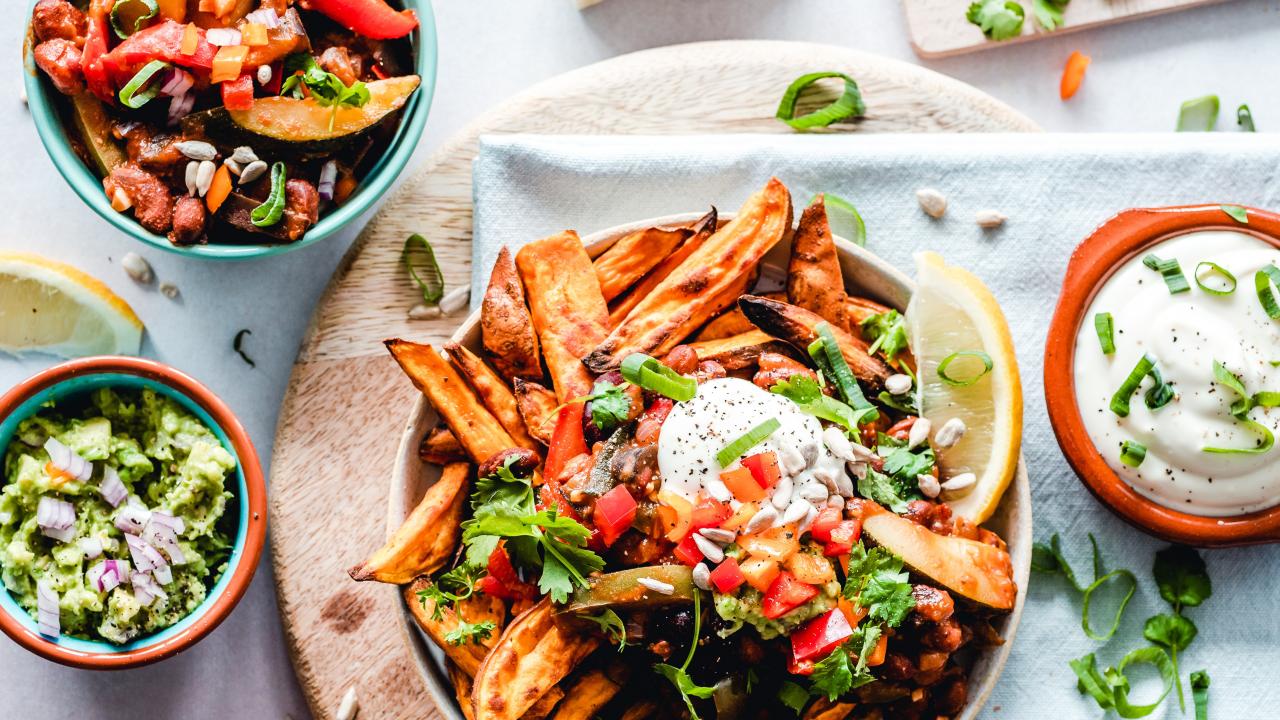 It's National Salsa Month! As the weather get warmer, salsa is a great springtime snack that is bursting with flavor and packed with nutrients.  Many of the typical fruits and vegetables found in salsa such as tomatoes, onions, peppers, and lime juice are an excellent source of vitamin C and fiber. Vitamin C is important for repairing and growing new tissues throughout the body, while fiber helps with stomach digestion and keeps you feeling full longer. Salsa is also a healthy snack that can help you increase your fruit and vegetable consumption and keep you hydrated during these warmer months.
Traditional tomato salsa is usually served as a dip alongside tortilla chips, but there are a variety of other produce, seasonings, and techniques that can provide a unique, new, and refreshing taste.  With so many possibilities, use your creativity to make your own version of salsa that you and your family will enjoy!
Listed below are a few tips and ideas to help you prepare a delicious-tasting salsa:
Try a different preparation method

:

Try roasting your vegetables in the oven beforehand to intensify the flavors and add a hint of smokiness to your salsa. You can also sauté or boil your vegetables on the stovetop for a more savory and warm taste. If you want to keep it classic and fresh, simply cut and blend your favorite raw fruits and vegetables.

Incorporate new flavors into your favorite recipes

:

Take advantage of the sweet and zesty flavors that salsa offers. All the different fruit and vegetable combinations lend themselves for the opportunity to create your own unique blend of salsa. Switching up the base of your salsa to a spicy pepper or sweet corn can add a whole new flavor profile to your dish. Some examples include salsa with eggs in a healthy breakfast burrito, using it as a marinade for your favorite taco meat

, or dressing up your salad with salsa for a healthy alternative to salad dressing! Check out this post for many more ways to use up your next jar of salsa. 

Fill yourself up with a fruit salsa:

Salsa doesn't have to be just vegetables! Mangoes, kiwis, peaches, and berries are some of the most popular fruits for salsa. Put your own twist on fruit salsa and add your favorite fruits to the mix! Dress it up with honey, cinnamon, and lime juice for a delicious, sweet taste. Serve your fruit salsa with whole-wheat cinnamon tortilla chips or use it as a side for the next time you prepare fish or chicken for a sweet and savory combination. Check out the MyPlate website for a fruit salsa recipe.
Salsa making can also be an easy and fun activity for the whole family! During National Salsa Month, let everyone express their creativity in making their own unique version of salsa by hosting a family salsa-making competition. Test out all the different ways you can use leftover salsa in new flavor combinations and recipes. Whichever way you choose to prepare salsa, you're sure to get a healthy and delicious side that the whole family will love!
For more salsa flavors and recipes, visit the Have a Plant: Fruit and Veggies for Better Health website.
Category
Tags