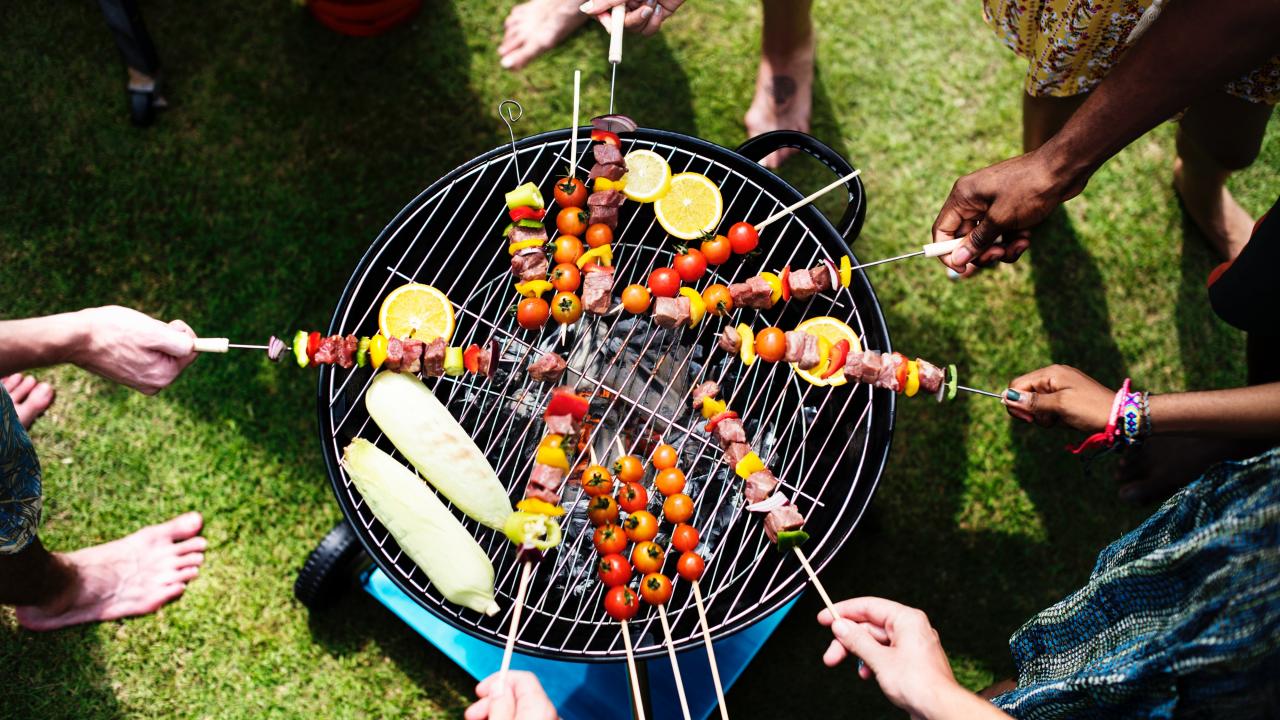 Warm weather is upon us. One perfect way to enjoy the summer and outdoors is to have a fun-filled barbecue! The distinct barbecue flavor, diverse assortments of meats, vegetables, and marinades to choose from, and company of everyone together are what makes barbecues so memorable and special!
Beyond the traditional hamburgers and hot dogs, there are a variety of other foods that are just waiting to be the star of your next cookout!  Opt for healthier barbecue alternatives this summer that will still satisfy your cravings while also adding a variety of nutrients to your plate.
Here are some tips to create a delicious, yet healthy barbecue meal.
Choose lean meats:  Try cooking turkey burgers instead of beef burgers.  Other options include skinless chicken or fish, such as salmon, tilapia, or mahi-mahi.  Marinate your meats beforehand with your favorite sauces or rubs to add even more flavor!
Add some color to your plate:  Several of your favorite colorful vegetables can be grilled alone or on kebobs.  Cut the vegetables into even pieces, season, and brush with an oil to prevent sticking to the grill.  Examples of colorful grilling vegetables include asparagus, bell peppers, mushrooms, corn, onions, zucchini, and squash. 
Pair a side to go with your meal: Make it a well-balanced plate at your next cookout by completing your meal with a perfect side dish. Tangy coleslaws, green salads, baked beans, sweet potatoes are just a few ideas! Slaws and salads are best served chilled as a refreshing balance to the smoky barbecue.  To make some of your classic side dish favorites, such as potato salad and macaroni salad, healthier, replace the mayonnaise with an alternative such as Greek yogurt or reduced-fat mayonnaise.
Opt for fresh fruit for dessert: To go along with the barbecue theme, create fruit kebobs for the grill!  The high heat from the grill gives the fruit extra sweetness and flavor. Grilled watermelon, pineapple, mangos, and peaches make sweet treats!
For additional healthy barbecue and grilling ideas, visit the American Heart Association's website.
Category
Tags