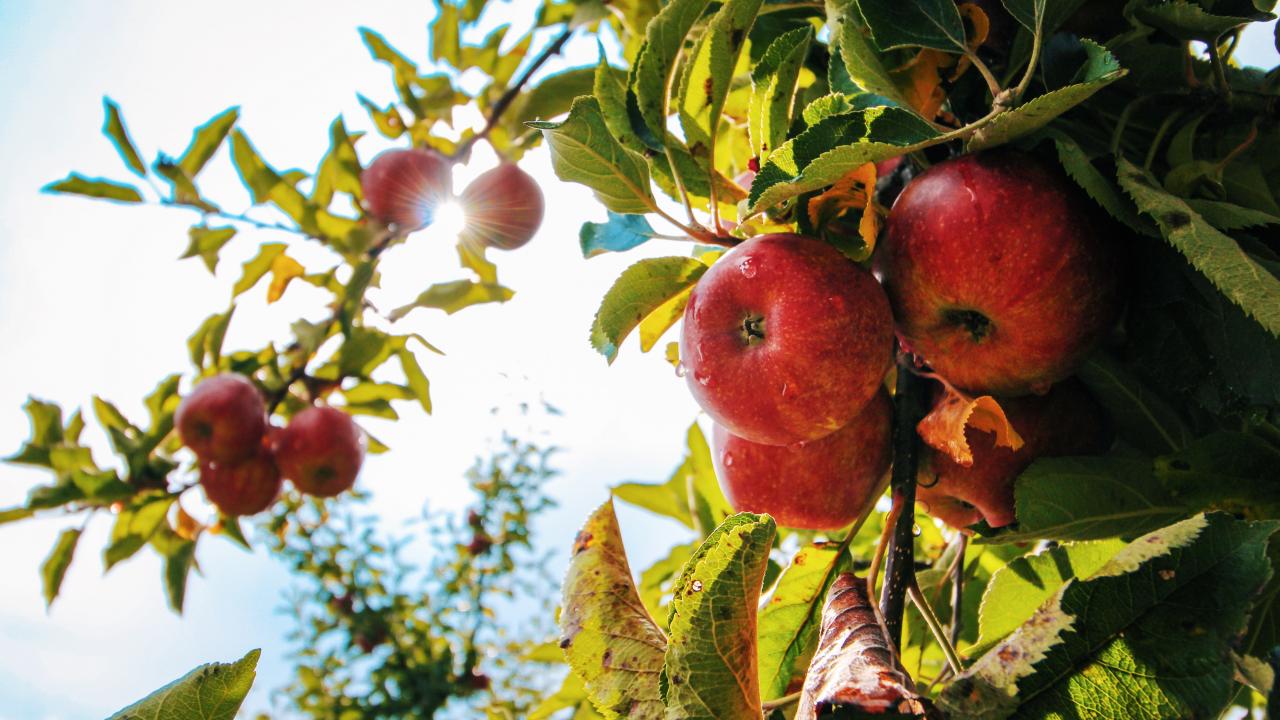 Bite into the new season with apples! With more than 100 varieties of apples grown within the United States, there's a favorite for everyone! Experiment with different colors, flavors, and varieties to find the apples your family loves most. Apples vary in color from red and pink to green and yellow, and have distinct flavors ranging from sweet to tart. For additional fun, create your own family taste test with several apple varieties, so everyone can try new types of apples to see which one they like the best!
No matter what variety of apple you choose, apples offer a wide range of health benefits! MyPlate recommends at least 2 cups of fruit per day for adults and at least 1.5 cups of fruit for children aged 4 - 14.
Fun Fact: a medium sized apple is equivalent to about 1.5 cups of fruit and contains vitamin C, fiber, and potassium!
Vitamin C helps with wound healing and boosts the immune system, while potassium supports blood pressure, cardiovascular health, and bone and muscle strength.  In addition, fiber promotes digestive health.  Did you know unpeeled apples have twice as much fiber and contain more antioxidants than peeled apples?
Fall and winter are great times to pick up some apples at your local market, farmers market, or orchard! Apples are a tasty snack on their own, and are perfect addition to weeknight dishes or holiday celebration meals. Next time you are grocery shopping, consider some of the following ways to include apples in your meal:
Celebrate with a Bubbly Cider: 

Ring in the New Year or any special holiday with some sparkling apple cider! Try sparkling cider made from 100% apple juice with this delicious recipe from the USDA's website 

What's Cooking.

 

Add to Your Savory Dish:

Incorporate sweet apples into some of your favorite savory dishes for the perfect balance of sweet and tart.  For example, apples in a ham and cheese panini or quesadilla add a crispy crunch to your meal, while pairing apples with sweet potatoes, butternut squash, and other root vegetables can make a delicious hash. A homemade apple chutney or applesauce can also be added as a side to many weeknight meals such as grilled chicken or pork chops.

Bake a Sweet Treat:

Because Granny Smith apples are known for their tart flavor, they are popular for baking. Fuji and Gala apples can also be used for baking as well! Apples can be added into several baked goods such as pies, muffins, strudels, and breads, or they can be baked alone topped with brown sugar, cinnamon, and butter for a warm, sweet dessert. Visit the

CNS blog

for more tips on healthy baking.
For more information, like nutrition facts and recipes, check out the USDA's Seasonal Produce Guide.
Category
Tags