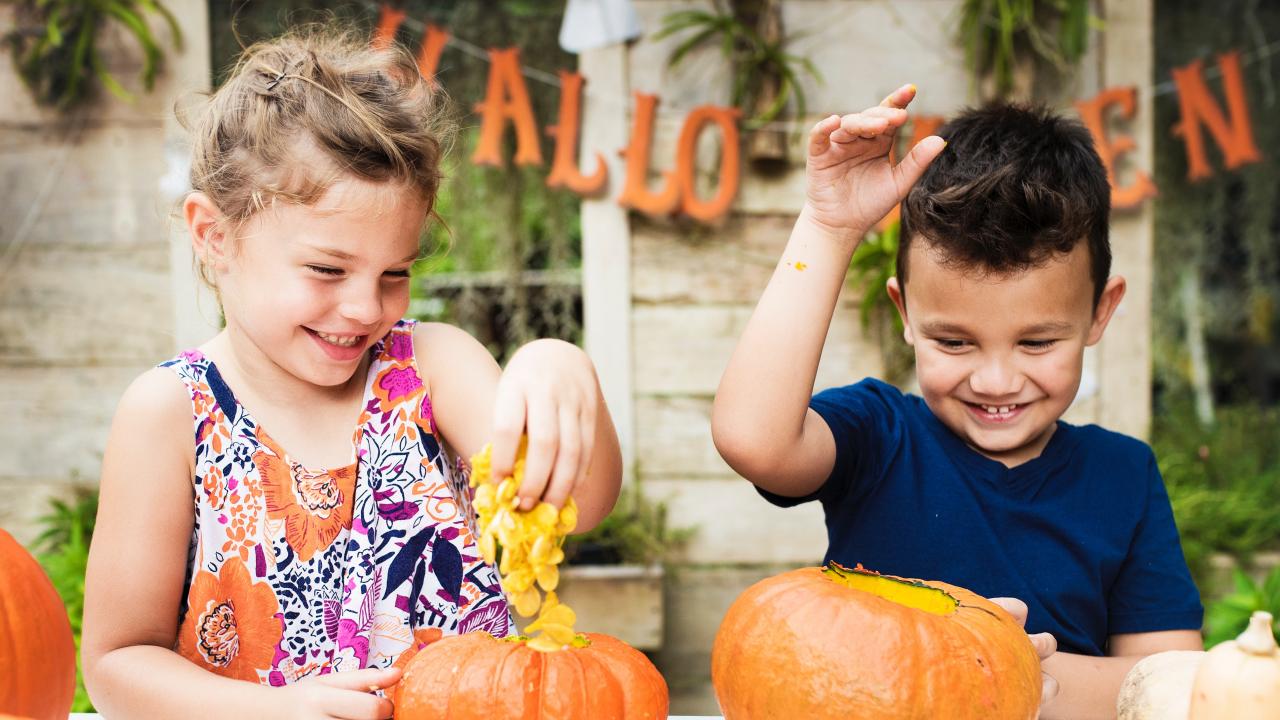 Trick or treat! Halloween is coming up, and it is a fun-filled day full off creative costumes, spooky surprises, and tasty treats.  Keep your Halloween activities both spook-tacular and healthy with a few simple tips and ideas. 
Here are some tips to help you celebrate a happy and healthy Halloween:
Satisfy your sweet tooth in moderation: Instead of making candy and sweets off-limits, eat them in moderation. If you do choose to eat sweets, opt for smaller portions or "fun-sized" treats. Find a healthy balance for you and your child's food intake by creating an atmosphere of smart choices for holiday celebrations!
Have a goulishly good time creating your own healthy Halloween-themed snacks: As an alternative to Halloween candy and sweets, put a fun twist on healthy snacks! Make your own treats that incorporate a source of fruits, vegetables, or whole grains. Include Halloween snacks like pumpkin muffins, baked apples topped with cinnamon, candy corn fruit parfaits, jack-o-lantern veggie platters, and tangerine pumpkins at your next Halloween party! Check out these fun ideas from Produce for Kids here for more healthy Halloween treats!
Get festive this holiday with pumpkins: In addition to jack-o-lanterns, pumpkins can also be used in many Halloween recipes.  Pumpkins are a popular seasonal produce item during the fall and an excellent source of Vitamin A and dietary fiber. Roast pumpkin seeds, puree pumpkins into a delicious soup, or bake pumpkin cookies and bread; the possibilities are endless! Check out this infographic from MyPlate for even more pumpkin recipes.
Stay active with exciting Halloween games:  Get kids moving during Halloween by playing games, such as zombie tag and capture the ghost, or turning on some spooky tunes and having a monster mash dance party! For additional exercise to celebrate the festivities, consider a fun, family walk instead of driving around the neighborhood while visiting door to door for treats. Be sure to pack flashlights, reusable water bottles, energy-packed snacks, and comfortable footwear to make this family activity even more enjoyable and safe. 
When Halloween is over, try putting leftover sweets out of sight to resist the temptation of eating. This is a great opportunity to teach kids about eating special treats in moderation, while maintaining an overall nutritious, healthy diet.
For more ways to have a healthier Halloween, check out the American Heart Association's article. 
Category
Tags