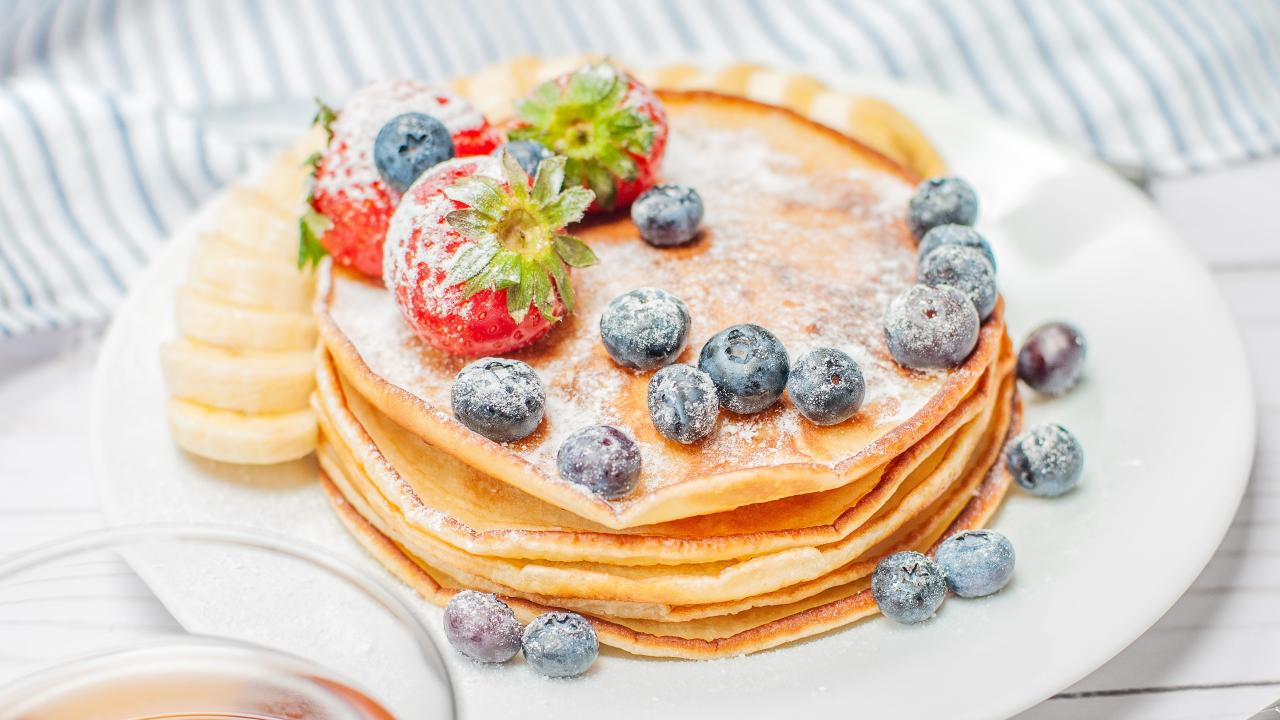 The school year is in full swing! Having a nutritious breakfast provides the nutrients kids need to be focused and prepared for the school day.  Take the time to eat breakfast with quick and easy breakfast options! 
Along with textbooks, pack your key nutrients from a delicious breakfast, such as calcium, Vitamin D, and iron.  While it is important to regularly eat in the morning, it also important to make smart and healthy food choices.  Start by making small changes to your eating habits to improve your food choices for breakfast!
What consists of a healthy breakfast? The food groups listed below provide our bodies with the necessary amounts of carbohydrates, protein, and fat to give us several health benefits and help us feel full throughout the day.
Whole grains: Examples include hot and cold whole-grain cereals and whole-grain toast, tortillas, pita pockets, or waffles.  When choosing cereal, try to choose cereals that contain less sugar and more fiber!
Lean protein: Eggs, lean meats such as turkey, legumes, or nuts make great options.  Keep hard-boiled eggs in the fridge, for an easy, on-the-go breakfast item.  When you have more time, eggs can be served on whole grain toast with sliced avocado and some of your favorite spices and toppings.
Low-fat dairy: Milk, cottage cheese, and plain yogurt are just a few examples.  A yogurt parfait can make a delicious, yet balanced breakfast! Layer your yogurt with fresh or frozen fruits, nuts, and granola for a tasty morning meal. 
Fruits and vegetable: Fruits and vegetables can be added to your breakfast in a variety of ways!  For example, have a glass of 100% fruit juice with your breakfast or make a fruit and vegetable smoothie.  Fruits can also be added on top of cereal, oatmeal, and yogurt! Mix it up by adding shredded carrots or zucchini to your pancakes and waffles. Choose your favorite fruits and vegetables to add some color to your breakfast!
When time is tight in the morning, here are some tips to have breakfast while on the go.
Prepare the night before: Lay out all the supplies and ingredients you need, so you are ready to go in the morning.  For example, set out the cereal and bowl the night before or freeze pre-chopped smoothie ingredients the night prior and get the blender ready ahead of time.  All you need to do in the morning are the final few steps to make breakfast!
Pack your breakfast to go: When there is no time to eat at home, plan for a healthy breakfast to eat on the go.  Examples include a bag of trail mix, a piece of fruit, or a cup of yogurt topped with granola!  In addition, you can make a to-go breakfast the night before, and grab and go in the morning. 
Meal prep during the weekend: For more time-consuming recipes, make them during the weekend to be reheated all week long.  Omelets and frittatas filled with vegetables are great make-ahead recipes!
Another option for breakfast on school days is to participate in the School Breakfast Program, administered by the USDA.  These school breakfast meals must meet the recommendations from the Dietary Guidelines for Americans, meaning a typical meal would include fruits or vegetables, whole grains, a meat or meat alternative, and milk.  For more information, check out the School Breakfast Program Fact Sheet from the USDA.
For more ideas on what to eat for breakfast, check out these recipes from the USDA.
Category
Tags